Dental Office Safety
Posted by Dr. Roger Pham, DDS on May 16 2020, 01:34 AM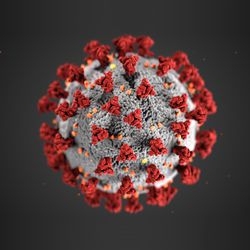 SARS-CoV-2, the virus that causes COVID-19, is thought to be spread primarily through respiratory droplets when an infected person coughs, sneezes, or talks. Airborne transmission from person-to-person over long distances is unlikely. However, COVID-19 is a new disease and we are still learning about how it spreads and the severity of illness it causes. The virus has been shown to survive in aerosols for hours and on some surfaces for days. There are also indications that patients may be able to spread the virus while pre-symptomatic or asymptomatic.

The practice of dentistry involves the use of rotary dental and surgical instruments such as handpieces or ultrasonic scalers and air-water syringes. These instruments create a visible spray that contains large particle droplets of water, saliva, blood, microorganisms, and other debris. This spatter travels only a short distance and settles out quickly, landing on the floor, nearby operatory surfaces, Dental Health Care Providers (DHCP), or the patient. The spray also might contain certain aerosols. Surgical masks protect mucous membranes of the mouth and nose from droplet spatter, but they do not provide complete protection against inhalation of airborne infectious agents.
There are currently no data available to assess the risk of SARS-CoV-2 transmission during dental practice or to determine whether DHCP are adequately protected when providing dental treatment using Standard Precautions. To date in the United States, clusters of healthcare workers positive for COVID-19 have been identified in hospital settings and long-term care facilities, but no clusters have yet been reported in dental settings or personnel. The Occupational Safety and Health Administration's Guidance on Preparing Workplaces for COVID-19 places DHCP in the very high exposure risk category, as their jobs are those with high potential for exposure to known or suspected sources of the virus that causes COVID-19 during specific procedures.


What we are doing
Because of those risks, dentist around the nation have to take quite a few measure to protect their staff, themselves, but most importantly, the patients. The industry of service, including dentistry, medicine, restaurants, hair salons, to name a few are going to change drastically. 
Precautions are being ordered into offices to start limiting prolonged face to face contact with others. Such precaution include but are not limited to:
Sneeze guards at the reception.
Temperature recording for all patients coming to the office.
Additional COVID related questions on top of traditional medical questionnaire.
Masks to worn preferably by all patients coming to the office.  
Distancing of chairs in waiting room to provide adequate spacing required by CDC's social distancing guidelines.
Removal of magazines and other reading material in reception area to avoid spreading of virus.
Face Shield and masks being worn by staff members constantly.
Limit the amount of patients in waiting room by having patients wait in their car until staff is ready for them.
Limit the amount of people present in treatment rooms.
Have all patients wash their hand as they enter the office to ensure sterility inside the office for other patients.
Extra tools to help with droplets reduction.
Those are many of the steps that we take to ensure everybody's safety. We do ask that the same courtesy is extended in return.
What we ask
We love what we do and we do it because we know it helps people. We understand that it has been a hard 2 months for everyone and that there has been a lot of frustration. However, because of the uncertainty surrounding this virus, we do ask that you respect the rules put into place in order to keep staff and patients alike comfortable that we can do our jobs safely. 
Please follow the guidelines setup by our office as those guidelines have been extrapolated from major organization including the CDC, OSHA, the American Dental Association, the California Dental Association.
Please stay home if you even remotely suspect that you have something. We do not take any chance with our staff. If they measure with any kind of fever, they will quarantine at home until it has passed, before coming back to work. It is for your safety, please do the same and return the favor. There will not be any problem if you feel sick and need to reschedule. We will make sure that you are seen and will keep your priority in line. 
If you have been in contact with a sick person, please let us know in advance and reschedule. COVID-19 is the most contagious during the first week and patients with no symptoms can easily transmit it to someone else without knowing. As front line workers, we want to help everyone but we can't if we are sick ourselves. So please help us NOT get sick.
Understand that procedures will take longer as the room breakdown and sterilization needs to be more thorough and we will ensure that it is completed on our end, which can take a bit more time. We ask that you stay patient with us as we are adapting to this new change like everyone else as we also have all been away for about 2 months as well. 
And as always, come with a positive attitude as we have all been dying to come back and see all our patients. We will continue provide the best dental care that we can with a smile, and ask nothing more than a smile back too! 
And as always, if you have any questions or concerns, always feel free to call (661) 327-2189 us or email us info@auburndentalgroup.com to let us know what we can do to help. Looking forward to get back to work!